Product Details
Apple MacBook Pro Keyboard Keys Replacement Late 2016
These 2016 MacBook Pro keyboard key replacements features the new designed keyboard, these keyboard key replacements has the second generation of the "butterfly" hinge clip, meaning you will get a smooth and precise key stroke, these laptop keys are 100% Apple OEM so you are sure to get perfect fit and finish.
Please take a look at the difference between the Butterfly 1st Gen vs 2nd Gen, there are major changes, and the fitment is different, we are selling 100% OEM 2nd Gen butterfly keyboard keys with the rubber cup included, while others are selling you the 1st Gen.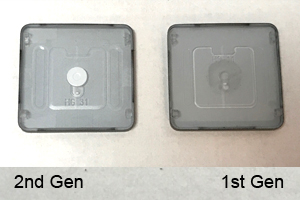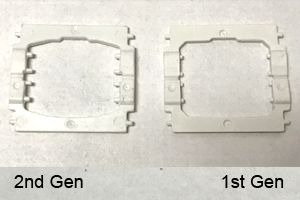 We offer the SPACE BAR 2 ways, SPACE BAR w/CLIP and w/o CLIP, if just the clips on the BACK of the space bar is damaged, save some money by only purchasing the version WITH OUT CLIP, otherwise please purchase the version W/CLIP.



100% Factory Original
Brand NEW
1 Year Warranty
60 Day Free Exchange Policy
Hassle Free Return
100% Satisfaction Guarantee
We are a proud American company since 2005. All of our products are packaged and shipped from Orange County, Ca.
Confirm Keyboard Layout and Language
Below is an actual picture of the keyboard. Please confirm that the layout matches as well as the language.

NOTE:The default color of the keyboard we show is black. If your model comes in different colors and we have it in stock, it will be available in the color section above.
INTERNATIONAL CUSTOMERS: Our standard keyboard layout is QWERTY (shown below). If you have a different language layout the key cap and hinge clips are still interchangeable. If the key cap shape does not match or you require a different language layout please contact us before ordering.


Reviews
22 Reviews
Butterfly key replacement

Excellent replacement keys. Well made, easy to install, and work perfectly! A+

The F key on my Macbook Pro broke. On tiny peg the size of the period at the end of this sentence, and Apple wanted almost $700 to fix it. I got this replacement key instead for $13 shipped and fixed it myself in less then 5 mins. Best $13 I ever spent. "F" Apply and their criminal customer service policy for a problem they cause with faulty engineering decisions.

New Command Key - MacBook Pro

Loved the replacement key. I use the command button about a million times a day doing graphic art, so when the original broke it was a major headache. The new key popped right in and the keyboard was good as new.

MacBook Pro 13" Touchbar 2016

Really pleased with my purchase. Apple refused to fix my falling off CMD key because I'd bought the computer in Australia and now live in the UK. They sent me to an authorised dealer who wanted £200 to fix it. I decided to buy the broken key for $10 and fix it myself. After watching a YouTube video, I popped the old key off and pressed down the replacement. Now it works like new. Really pleased with the purchase. Not pleased with Apple and their worldwide repair programme refusing to fix the problem for any reason they can think up.

Replacement key for MacBook Pro

ONE WORD: EXCELLENT. The replacement key (B) was delivered much earlier than expected - and it worked perfectly. I am a VERY happy customer. Thank you so much!

The whole kit arrived and it fitted perfectly, just the shipping was a bit slow, I'm from EU

Apple MacBook Pro Keyboard Keys

I rescue more money with you to avoid buying a whole keyboard :))

So, I spilled coffee on my MacBook Pro keyboard. I was able to clean everything up and dry everything out so there are no hardware issues, but while I was popping out the keys (gently) to clean underneath and prevent sticking I broke the hooks and clips on two of the key caps. As a result, those two keys would not stay secure. I was lamenting the idea of having to send my MacBook Pro back to Apple to have the keys replaced (especially when everyone at Apple was telling me that I'd need to have the whole keyboard replaced which was expensive and time consuming). THANKFULLY I discovered replacementlaptopkeys.com. I was able to order just the keys I needed to replace, they were shipped and delivered very quickly, and you cannot tell that those keys were replaced. They work magically. I only wish I was able to order just the key cap for the A1707 since I didn't need to replace the entire key (hinge and cup). Regardless, very satisfied!

the keys fits perfectly. saves a lot from Apple's $$$

Product shipped fast. I was able to track it at every step of the shipment and more importantly it fits perfectly. Saved me from a brutal trip to the Apple store.
Apple MacBook Pro Keyboard Keys Replacement Late 2016
Video Installation Guide
#soeasy2install
Laptop key installation are so simple a kid can do it. Follow our FREE & EASY video guides.
Installation Videos