Product Details
Dell Latitude E6420 Laptop Key Replacement
This Latitude E6420 Laptop Key Replacement is 100% OEM, Offers Perfect Fit & Finish, Please note Dell used different keyboard vendors during production of this laptop, therefore resulting in different versions of the hinge clip under the key cap.

Each Keyboard Key Kit Includes: Key Cap | Hinge Clip | Silicone Cup
100% Factory Original
Brand NEW
1 Year Warranty
60 Day Free Exchange Policy
Hassle Free Return
100% Satisfaction Guarantee
We are a proud American company since 2005. All of our products are packaged and shipped from Orange County, Ca.
1. Identify Hinge Clip Style
The hinge clip is the plastic scissor clip that swivels up and down underneath the keyboard key cap. It is usually either black or white and functions as the part that holds the back of he key to the keyboard.
Manufacturers often use different keyboard vendors during production and each vendor has its own unique type of hinge clip. Compare the chart and identify the version that matches. You will fill this info in Step 2 above.
Hinge Clips are not Universal so if your hinge clip does not match, please
Contact Us
for help.
| | | | |
| --- | --- | --- | --- |
| Type | Regular Key: A B C & 1 2 3 | Large Key: Caps Enter | Small Key: Esc F1 F2 |
| DC07 | | | |
| DC12 | | | |
| | | | |
| DC31 | | | |
| | | | |
| | | | |
2. Confirm Keyboard Layout and Language
Below is an actual picture of the keyboard. Please confirm that the layout matches as well as the language.

NOTE:The default color of the keyboard we show is black. If your model comes in different colors and we have it in stock, it will be available in the color section above.
INTERNATIONAL CUSTOMERS: Our standard keyboard layout is QWERTY (shown below). If you have a different language layout the key cap and hinge clips are still interchangeable. If the key cap shape does not match or you require a different language layout please contact us before ordering.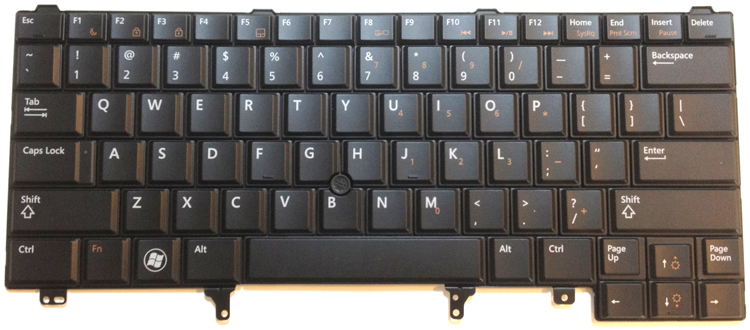 Reviews
8 Reviews
DELL LATITUDE E6420 LAPTOP KEY REPLACEMENT

simply perfect

They sent me another model type key in addition to the correct key, I suspect it was just to make sure I got the right one. I really appreciate that. The right key snaped right on, it was a breeze. Love it. Thanks again!

DELL LATITUDE E6420 LAPTOP KEY REPLACEMENT

Replacement key was easy to install and worked great

Thank you

1 for 2, HR Grand Sland 4 RBIs

On Laptop Keys first at-bat they struck out looking. I was waiting for my key. When they came back to the dugout I asked them what happened. They said they missed the swing sign. I told him to swing away. The next ab he hit a grandslam. This was the best thing I ever bought onls ine for $7. I was able to repair two keys with the new backet and the replacement cap. If I become a rich web develop I will always remember Laptop Keys as my Savior and I will forever have gratitude

Quick,easy,and simple. Got exactly what I needed to fix my problem. The visual aids for selecting the right replacement was helpful,and the main reason I ordered from here and not from other sites.

Easy Swap For Lost Enter Key

Recently my Dell laptop turned up with a missing Enter key. This site advertised they could supply the missing key with a minimum of fuss. The cost seemed reasonable and I placed the order. A few days later an envelope arrived via First Class mail with my replacement key. After studying the internal pieces and videos, I was able to snap the parts in on the first pass. The replacement key looks and functions exactly like the other keyboard keys. Definitely kudos to these folks for fixing my keyboard without much hassle.

There really isn't much to say... the ENTER key was a perfect match and fit, and easy to install. Just go slow and pay attention so that you don't try to put it in upside down. I would give it five stars if they had a video specifically on the enter key... but as I said, it's pretty intuitive and easy to see which way it goes if you pay attention. Don't pay an expensive PC tech... you can do this.
Dell Latitude E6420 Laptop Key Replacement
Video Installation Guide
#soeasy2install
Laptop key installation are so simple a kid can do it. Follow our FREE & EASY video guides.
Installation Videos